Xi Home. Functionality paired with diversity.
---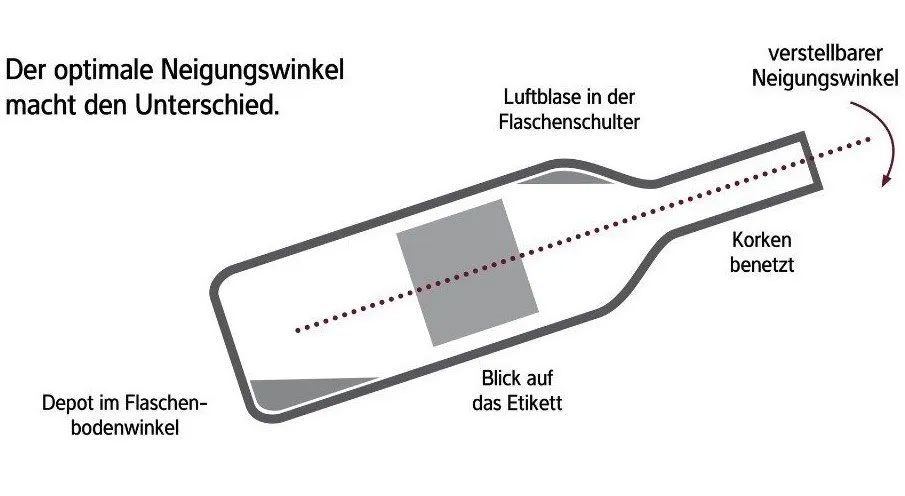 Unique advantages of
the internationally patented
Xi System:
---
• Optimal inclination angle of the bottles:
• The cork is wet and the bubble in the narrowest space in the bottle
shoulder >> Long-term storage
• The depot collects in the bottom of the bottle >> Simple decanting
without waiting time
• Looking at the etiquette saves tedious searching
• Efficient use:
• Modular principle: A maximum of 10 elements can be plugged on each
other: Up to 80 fl. Storage capacity (1165 mm height), from 4 elements mounting
to the rear wall necessary to prevent tilting (hole rear rod available)
• Per side and level 4 bottles sorted storage in depth
• Simple stock inventory
• Universal system: 95% of all bottle shapes and sizes can be stored up to 1.5 liters
• European Quality: Austrian invention, highest quality by European production, wet room
suitability by galvanized, powder-coated steel
• Dimensions: B545 x D 360 x H 130mm (115 inserted)
• Tailor-made wine racks possible, wood-clad, can be combined with Xi Rack
Informations to

Download.
---

Learn more about Xi
Do you have questions about this product?
Phone: +43 5577 820 76