Xi Cool Pro: The new generation of wine climate cabinets
---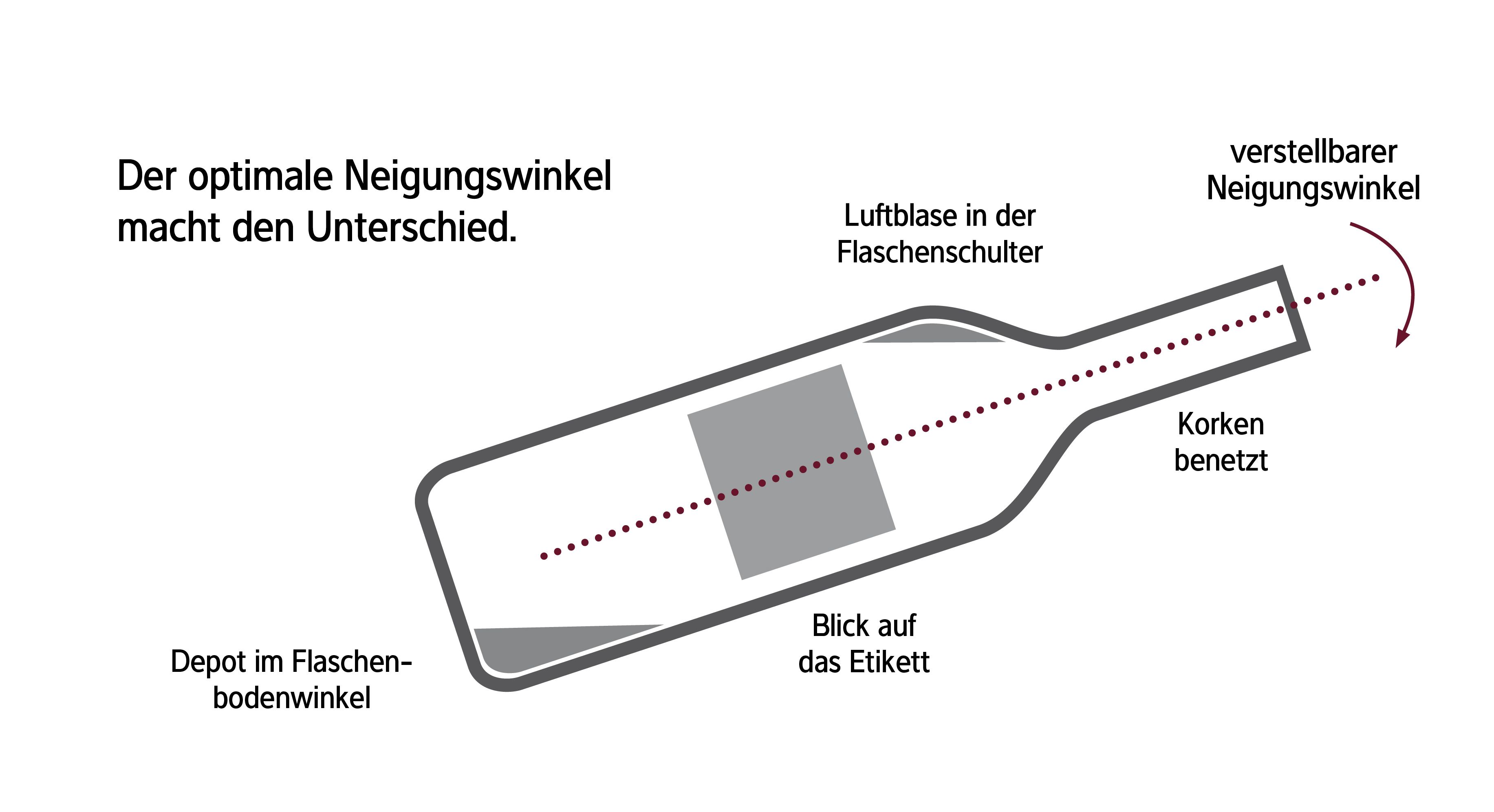 Unique advantages of
the internationally patented
Xi System: 
---

Optimal tilt angle for all bottles: Moistened cork at any time, air bubble in the bottle shoulder, wine dregs accumulated in the bottom corner

Perfekt overview: View on the labels to avoid extensive searching

Efficiency: Up to 104 direct accessible bottles plus 43 bottles bulk storage, simple stocktaking

Universal system: Suitable for 99% of all bottle types & sizes (until 6 litres)

Modular principal: adjustable and expandable according to needs; flexible combinable accessories

Unique combination
---
High-quality wines have to mature. However, there are several important aspects to be considered. The wine should be protected from sunlight and stored under constant temperature between 10° to 12°C and a humidity of over 50 %. Vibrations should be avoided.

To protect wine against/from oxidation, it should be stored horizontal, so that the cork is always moist, and no additional oxygen might get into the bottle. The air bubble in the bottle should be kept at the smallest space to reduce the contact with oxygen to a minimum. 

Xi Cool Pro, the new generation of wine climate cabinets, has been developed to consider all these requirements for an optimal wine storage. Equipped with UV resistant insulation glass and two individual temperature zones the Xi Cool Pro guarantees optimal user comfort. With the constant humidity of over 50 % and the included fresh-air active carbon filter the wine matures perfectly.
The specially developed, low-vibration compressors ensure an ideal storage. Equipped with the patented interior of Xi Cool Pro an extraordinary wine climate cabinet has been created to meet the high expectations of any wine lover.

Technical details / structure

---
•  2 temperature zones individually adjustable between +5°C and +20°C
•  Xi Inside: interior individually equipable with all different available drawers:     Maximum capacity 147 bottles (0.75 L.) - 104 direct accessible and 43     bottles in bulk storage
•  Digital LCD control insideAir circulation cooling, fresh air supply through     activated carbon filter
•  Humidity regulation (>50%), additional ventilation
•  LED interior lightning, permanently activatable / dimmable
•  Optical and acoustical warning signals in case of failure
•  Product dimensions:
    H 1920 x W 700 x D 742 mm, 123 kg
    H 75.59" x W 27.55" x D 29.21", 123 kg
•  Gross volume 593 liters / Net capacity 516 liters
•  Body material: stainless steel
•  Door: UV resistant, metallized insulation glass (tainted), stainless steel     frame, lockable
•  Door closed with SoftSystem closing damption
•  Solid Aluminum handle
•  Door hinge right (reversible)
•  Magnetic door seal (exchangeable)
•  Hidden door hinge with opening limit
•  Freestanding or to built into the wall(with bar spacer + 35 mm / 1.38")
•  Automatic defroster incl. condensation water vaporizer
•  Energy efficiency class G
•  Energy consumption per year: 191 kWh
•  Climatic class: SN/ST
•  Voltage 220 – 240V ~/1.0A, Frequency 50Hz
•  Noise level 38 dB(A)
•  High quality Liebherr product
Set up your Xi Cool Pro individually -
Find the right accessories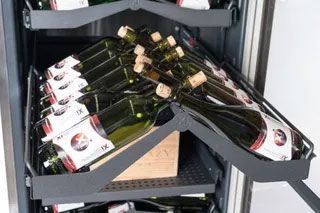 Xi Gusto drawer
For up to 13 x 0.75 L or 9 x 1.5 L open bottles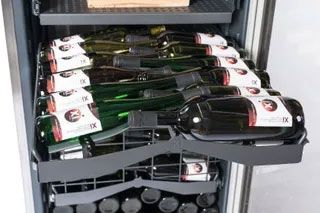 Xi Cuvee drawer

For up to 13 x 0.75 L or 9 x 1.5 L bottles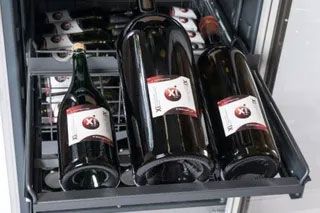 Xi Doppel drawer
For 4 long or double magnums or 3 Imperial (6 liters)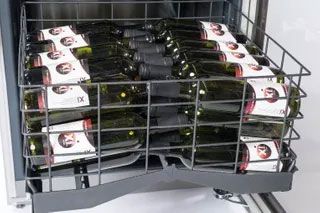 Xi Stock drawer
Storage basket for up to 36 x 0.75 L bottles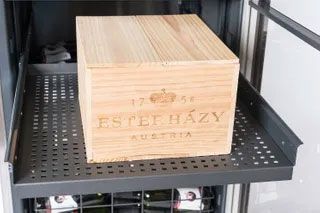 Xi Select drawer
For cartons, wooden boxes and wine accessories
Video product presentation Xi Cool Pro:
---

Learn more about Xi Cool Pro