Xi Cool Premium: The silent, temperature-controlled vendor
---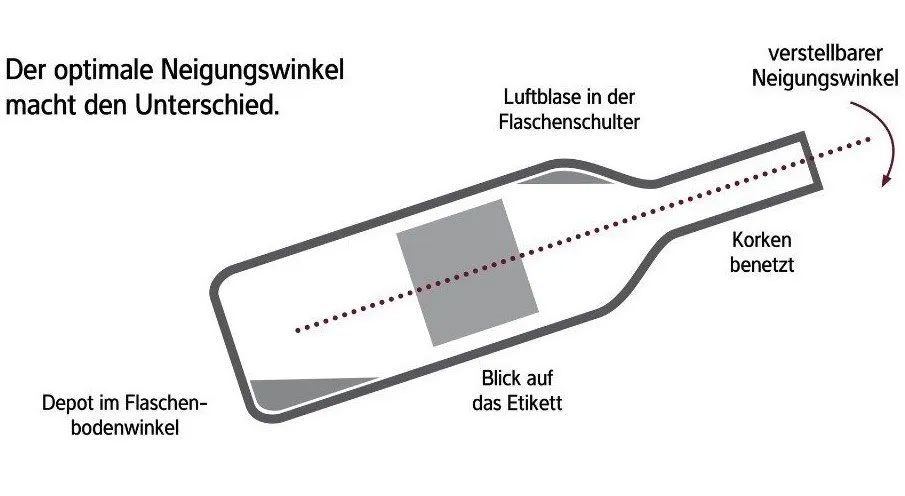 Unique advantages of
the internationally patented
Xi System:
---
•   Perfect, adjustable tilt angle for all bottles:
     - Moistened cork at any time, air bubble in the bottle shoulder >> Long-term storage without
        loss of quality
     - Wine dregs accumulated in the bottom corner >> Easy to decant without waiting
•   Perfect overview: View on the labels to avoid extensive searching, Simple stocktaking
•   Efficiency: In sample size, according to illustration up to 156 bottles of storage capacity
    per door - direct access to the last bottle (maximum capacity 182 bottles - removal
    in the zipper system, one bottle left, one right)
•   Universal system: suitable for 99% of all bottle types & sizes (until 6 litres)
•   Modular principal: adjustable and expandable accoring to (changing) needs; flexible
    combinable accessories

Unique combination
---
Xi Cool Premium combines both, an attractive presentation and promotion of the whole wine range as well as the perfect drinking temperature & climate and with this professional wine service. Specially developed for gastronomy – the whole wine menu on one sight. Customers report 20-30% higher wine turnover due to Xi Cool Premium.

1-, 2- and 3-door modules, custom-made individual piece production (delivery time about 6 weeks), inside and outside dimensions as well as refrigerant gas according to customer requirements, version in RAL powder-coated possible

Available with interface to a centralized cooling device or as plug in solution

Efficient 450 W cooling system, developed for commercial use

Standard in stainless steel, door with chromium-nickel-steel bordering and magnetic catch 

Door, side and back wall made of insulation glass U 1.1. or optionally in stainless steell

One climate zone per door (separate adjustable), temperature range +4 to +18°C 

Doors lockable and door stop choosable left/right

4 standing LED light pillars / door, UV-free cold light, dimmable through remote control (optional RGB colors)

Optimal air circulation through Xi System

 Standard configuration: 12 Xi levels á 13 bottles = 156 bottles (maximum is 182 bottles), Optional: Drawers Xi Cuvee, Xi Gusto, Xi DoubleM, Xi Stock, Xi Select and fixed shelf Xi Etagere

German quality product, 2 years warranty, DIN EN ISO 9001 certified

Technical details / structure
---
Fins evaporator with air integrated in the ceiling, stainless stell expansion valve R 290 (brass housing, stainless steel diaphragm head), 2 fans, each 2W/24V DC, including DC power supply

Electronic temperature control, alert function, main switch and additional switch for free use, automatic defroster, ST-BUS-interface, sensor controlled

Cooling capacity 467 W per door on VT -10°C at max. 25°C surrounding temperature

Voltage 230V/50Hz/16A, Typ 31, Speed controller for regulation of the blowers as an option. Optionally condenser instead of blowers available (3 sides glasses)

Cryogen R 290 (extremely flammable A3 refrigerant. Take care on regulations and warnings!), Alternative possible

Plug in ready unit 467 Watt, current consumption 2.5A, sound pressure level 42 dBa

Climatic class 3: 25°C/60% relative humidity, temperature class M2 +7°C to -1°C. Test requirements acc. to DIN EN ISO 23953-2

With interface to a central cooling device: evaporation pressure regulator VT-10°C, defrost drain provided by the customer


Energy consumption:

Red wine temperature 16°C: 3,13 kWh / 24h

Whit wine temperature 6°C: 4,84 kWh / 24 h

Specifications vary depending on the volume, choice of unit / inner workings / control / evaporator
Set up your Xi Cool Premium wine climate cabinet individually -
Find the right accessories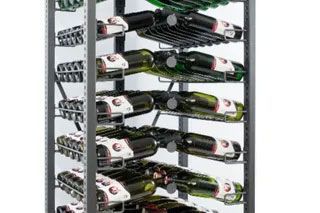 Xi level
For up to 13 x 0.75 L bottles or
9 x 1.5 L bottles, not extendable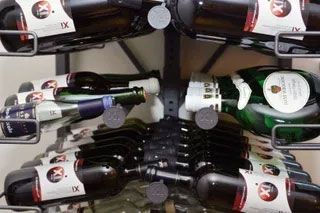 Xi level short bottles
For up to 13 short bottles up to 260mm,
not extendable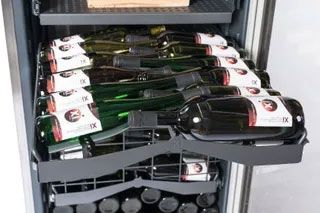 Xi Cuvee drawer
For up to 13 x 0,75L bottles or
9 x 1.5 L bottles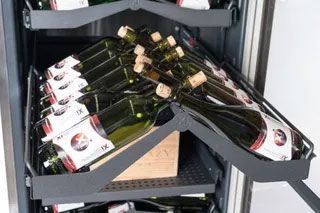 Xi Gusto drawer
For up to 13 x 0.75 L or
9 x 1.5 L open bottles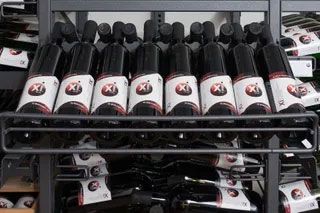 Drawer rotated 90°
Drawer Xi Gusto / Cuvee turned 90 °,
frontal presentation (special slidings)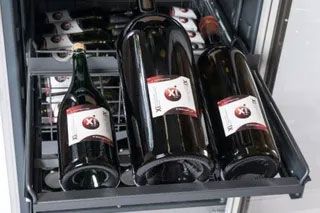 Xi DoubleM drawer
For 4 long or double magnums
or 3 Imperial (6 liters)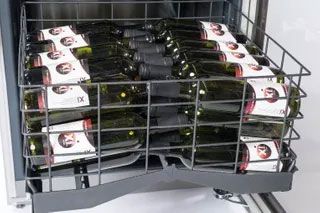 Xi Stock drawer
Storage basket for up to 36 x 0.75 L bottles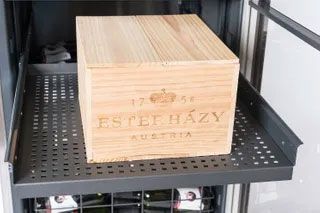 Xi Select drawer
For cartons, wooden boxes and wine accessories,
not extandable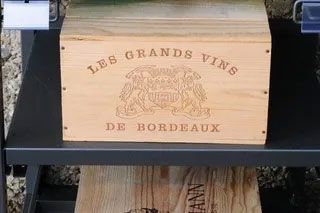 Xi Etagere fixed shelf
For cartons, wooden boxes and wine accessories,
not extandable

Video product presentation Xi Cool Premium:
---
Picture gallery wine climate cabinets
---

Learn more about Xi Cool Premium
Do you have questions about this product? 
Phone: +43 5577 820 76