Xi Cool Basic. The new generation of wine climate cabinets.
---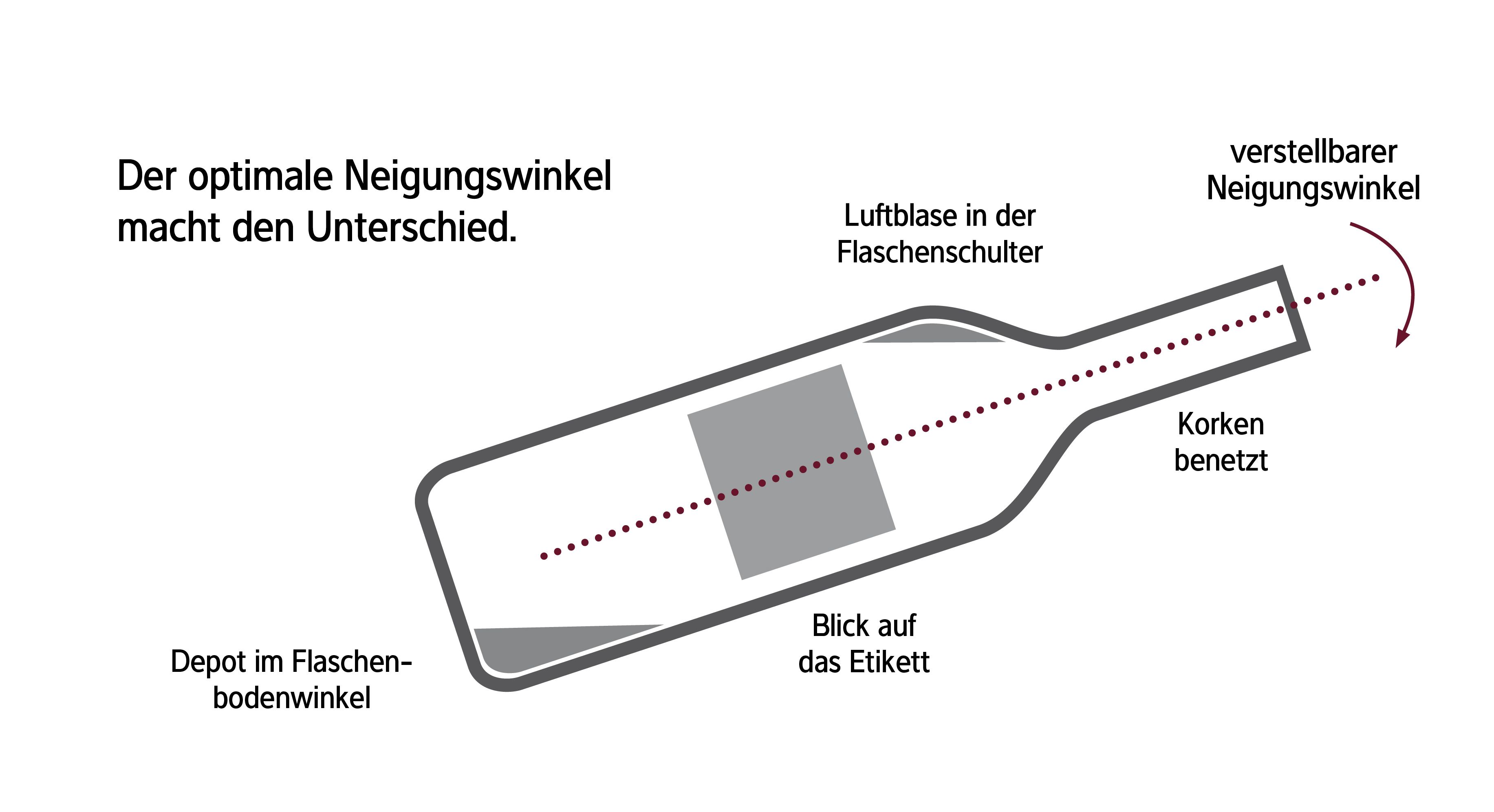 Unique advantages of the
internationally patented
Xi System:
---
Optimal tilt angle for all bottles: Moistened cork at any time, air bubble in the bottle shoulder, wine dregs accumulated in the bottom corner


Perfekt overview: View on the labels to avoid extensive searching

Efficiency: Up to 170 direct accissible bottles plus 40 bottles bulk storage

Universal system: 99% suitable for 99% of all bottle types & sizes (until 6 litres)
Unique combination.
---
High-quality wines have to mature. However, there are several important aspects to be considered. The wine should be protected from sunlight and stored under constant temperature between 10° to 12°C and a humidity of over 50 %. Vibrations should be avoided. To protect wine against/from oxidation, it should be stored horizontal, so that the cork is always moist, and no additional oxygen might get into the bottle. The air bubble in the bottle should be kept at the smallest space to reduce the contact with oxygen to a minimum. Xi Cool Basic, the new generation of wine climate cabinets, has been developed to consider all these requirements for an optimal wine storage. Equipped with UV resistant insulation glass and one individual temperature zone the Xi Cool Basic guarantees optimal user comfort. With the constant humidity of over 50 % and the included fresh-air active carbon filter the wine matures perfectly. The specially developed, low-vibration compressors ensure an ideal storage. Equipped with the patented interior of Xi Cool Basic an extraordinary wine climate cabinet has been created to meet the high expectations of any wine lover.
Technical details / structure.
---
• 1 temperature zone adjustable between +5 - +20°C
• Digital LCD control inside
• Air circulation cooling, fresh air supply through activated carbon filter
• Humidity regulation (>50%), additional ventilation
• LED interior lightning, permanently activatable / dimmable
• Optical and acoustical warning signals in case of failure
• Product dimensions:
Modell 1: Stainless steel or Terra Red:
H1650 x B700 x T742 mm, 87 kg
H 64.96'' x W 27.55'' x D 29.21'', 87 kg
Gross volume 478 liters / Net capacity 435 liters
Up to 8 bottle rests a 13 bottles plus 40 bottles
mass storage = 144 bottles
Modell 2: Terra Red
H1920 x B700 x T742 mm, 99 kg
H 75.59'' x W 27.55'' x D 29.21'', 87 kg
Gross volume 573 liters / Net capacity 525 liters
Up to 10 bottle rests a 13 bottles plus 40 bottles
mass storage = 170 bottles
• Body material: stainless steel, foliation in colour possible
• Door: UV resistant, metallized insulation glass (tainted),
stainless steel frame, lockable
• Door closed with SoftSystem closing damption
• Solid Aluminium handle
• Door hinge right (reversible)
• Magnetic door seal (exchangeable)
• Hidden door hinge with opening limit
• Freestanding or to build into the wall (with bar spacer + 35 mm / 1.38")
• Automatic defroster incl. condensation water vaporizer
• Energy efficiency class A+Energy consumption per year:
133 kWh /per 24 hours: 0.364 kWh
• Climatic class: SN/ST
• Voltage 220 – 240V ~/1.0A, Frequency 50Hz
• Noise level 41 dB(A)
• High quality product made by Liebherr

Video product presentation Xi Cool Basic:
Picture gallery wine climate cabinets .
---

Learn more about Xi Cool Basic.
Do you have questions about this product?
Phone: +43 5577 820 76